There are lots of advantages of being a Loan DSA or Bank DSA with us at Dealsofloan. You will work flexible hours, Become your own boss, get exciting incentives and get a chance to work with big brands! In simple steps, you can accomplish all of this. Understand how you can become a loan partner with us.!
Below are Simple Online DSA Registration Steps:
Step 1: Just Go to our official Website : Use your web browser to access www.dealsofloan.com. You will be directed to the official Dealsofloan website. Or you can also press above link to go immediately to the website.

Step 2: Click on the DSA Registration Button: You can see a button named as 'DSA Registration ' on top of the right side of page on the dealsofloan webpage. This button marked in red colour. click on that button it will Navigate to the Loan DSA application page on the website.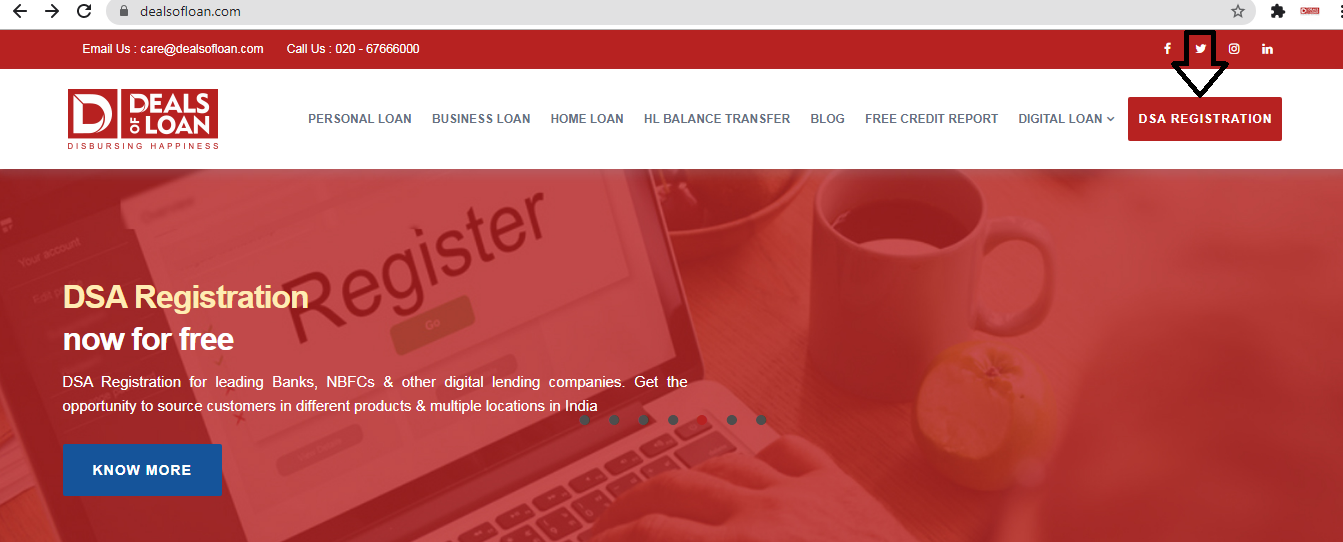 Step 3: Fill up the form: Fill in the form once you hit the Loan DSA application tab. You will need to fill in your basic contact information. just press next tab button After that, the 2nd form will be navigated. You will need to fill out your professional information here and click on submit tab.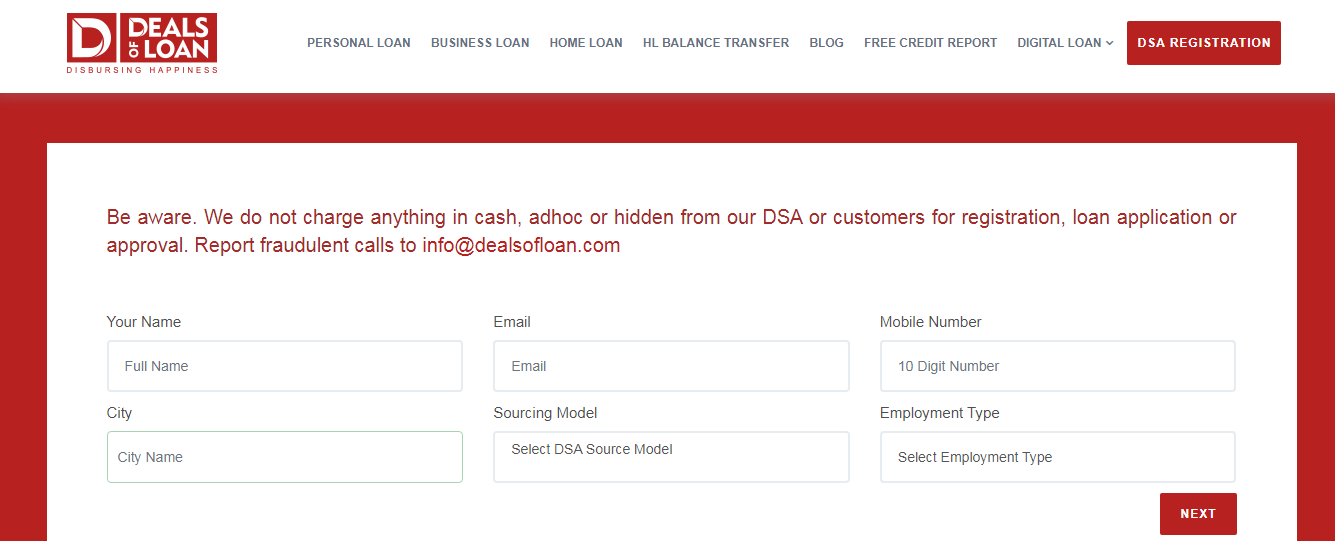 Step 4: Conversation with our manager: Upon satisfactory completion of the confirmation, the company's customer service, such as DealsofLoan, calls on you to explain the further steps. Our manager will get in touch with you within 24 working hours.
Step 5: Become a Loan DSA Partner : The DealsofLoan will send you the CRM login information when the request has been approved and cross-checked, where you can enter all information such as Lead Capture etc.
Benefits of Becoming a DSA with Dealsofloan:
- You can earn a large amount through bank dsa commissions as our partner.
- You can be your own boss, you can work as per your schedule. working hours are flexible.
- As a DSA from DealsofLoan, all you have to do is refer to us for all kinds of loan lead such as home loan, personal loan, business loan etc . The loan application process is continued by DealsofLoan.
- You can grow your network as a dealsofloan DSA loan agent and create fresh contacts that will help you earn a lot of revenue.
- The entire process of registering a DSA loan is completely flexible and simple.
- Establish a future-oriented professional contact and thus give a chance for a productive future.
- You have the opportunity to connect with the country's trustworthy banks and NBFCs.
Dealsofloan Expertise is that we are dedicated to our work, excellent in partner service, we work on PAN India as well as working with 60 + Banks & NBFC 'S, so you can expect a higher payout than other individuals. That's why more loan leads for you will work for a greater benefit.